This article should help you install Carousel on a new Windows Server. If you're updating from a previous version of Carousel, we recommend reviewing our update documentation or letting us know that you're updating so that we can provide any additional specifics.
You will want to double check to make sure that your system is compatible with the latest version of Carousel
Carousel 7 Supported Editions of Windows
Process
---
You will need to obtain a Download Key from Carousel Support. If you have not done this yet, please email support@carouselsignage.com and request one. It will either contain a single installer (for online installations), or a single installer with additional supporting files (for offline installations).

Run this installer while logged into the Server using the local administrator account:

If your Server has full access to the internet use the Carousel_X.Y.Z.exe installer. It's (probably) the only file we sent you! This will download, install, and configure all the prerequisite software and install Carousel.

If your Server does NOT have access to the internet you'll need the Offline Installer. If you didn't get this in your download key just send an email to support@carouselsignage.com and also provide your Server's Operating System to request a new one.

Run the Carousel_X.Y.Z-Offline.exe installer with the sql-installer-X.Y.Z.-Offline.exe installer in the same folder. This has all of the needed prerequisites along with Carousel so the files are larger and could be pre-downloaded before you plan on running the update.
Installation Screens and Licensing
---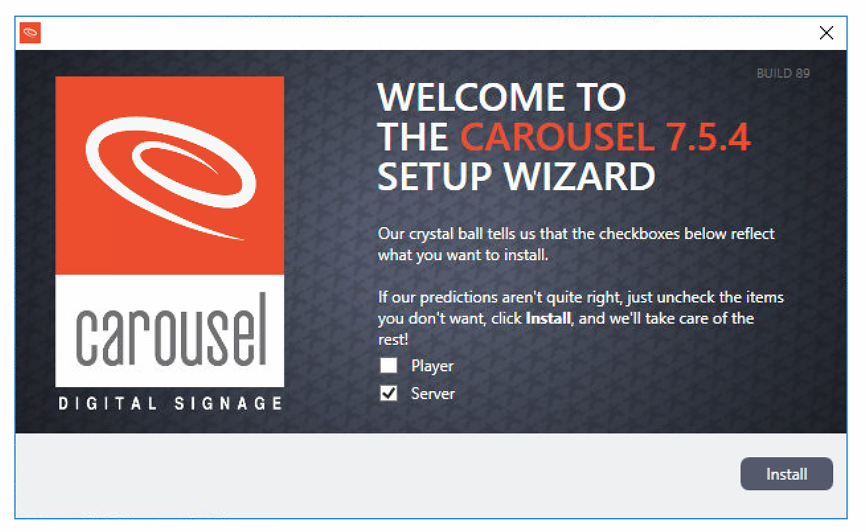 You can install the Player and Server software if you want, or just the Server software. If you are using the Player software on your Server, it will launch whenever you start Windows... It can be good for testing, but not always ideal in an enterprise environment. Also, using a Server's Operating System isn't going to perfectly simulate Player hardware.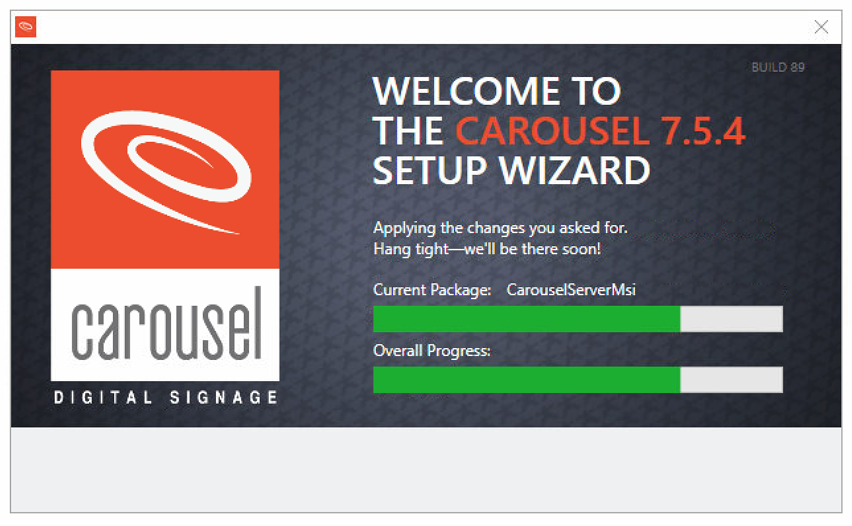 This part can take anywhere from 5 minutes to 1 hour... It really depends on network speed, server hardware, server load, and the version of Carousel. On a brand new system with an average network speed it should take 20 minutes. Keep in mind we install and configure SQL, .NET, and several other programs in the background.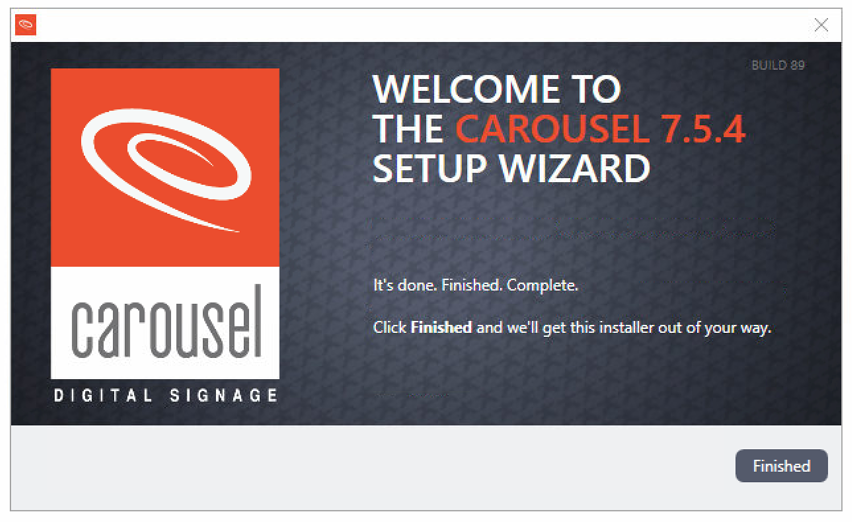 After your installation has completed successfully launch a web browser on the Carousel Server and go to http://localhost/FrontDoor/.
Login with the default Frontdoor credentials. Username: admin - Password: trms (all lowercase)
You will be prompted to change your password
From the Frontdoor Main Menu navigate to Server Setup > Licensing
Copy the Hardware License Key and email it to Carousel Signage Support to obtain a License for your system