Overview
The Carousel Player Application for Apple TV brings Carousel Digital Signage to any 4th generation Apple TV or Apple TV 4K. To get started, install the Carousel Player app from the App Store, https://itunes.apple.com/US/app/id1244188551?mt=8. Once installed, launch the Carousel Player app to display Carousel Digital Signage on the Apple TV.
In order to use the Carousel Player App for Apple TV, you must already have a Carousel Digital Signage System. Carousel version 7.0.7+ and tvOS 10.2+ is required. Enterprise deployment with Jamf's device management system, requires Jamf Pro 10.0+.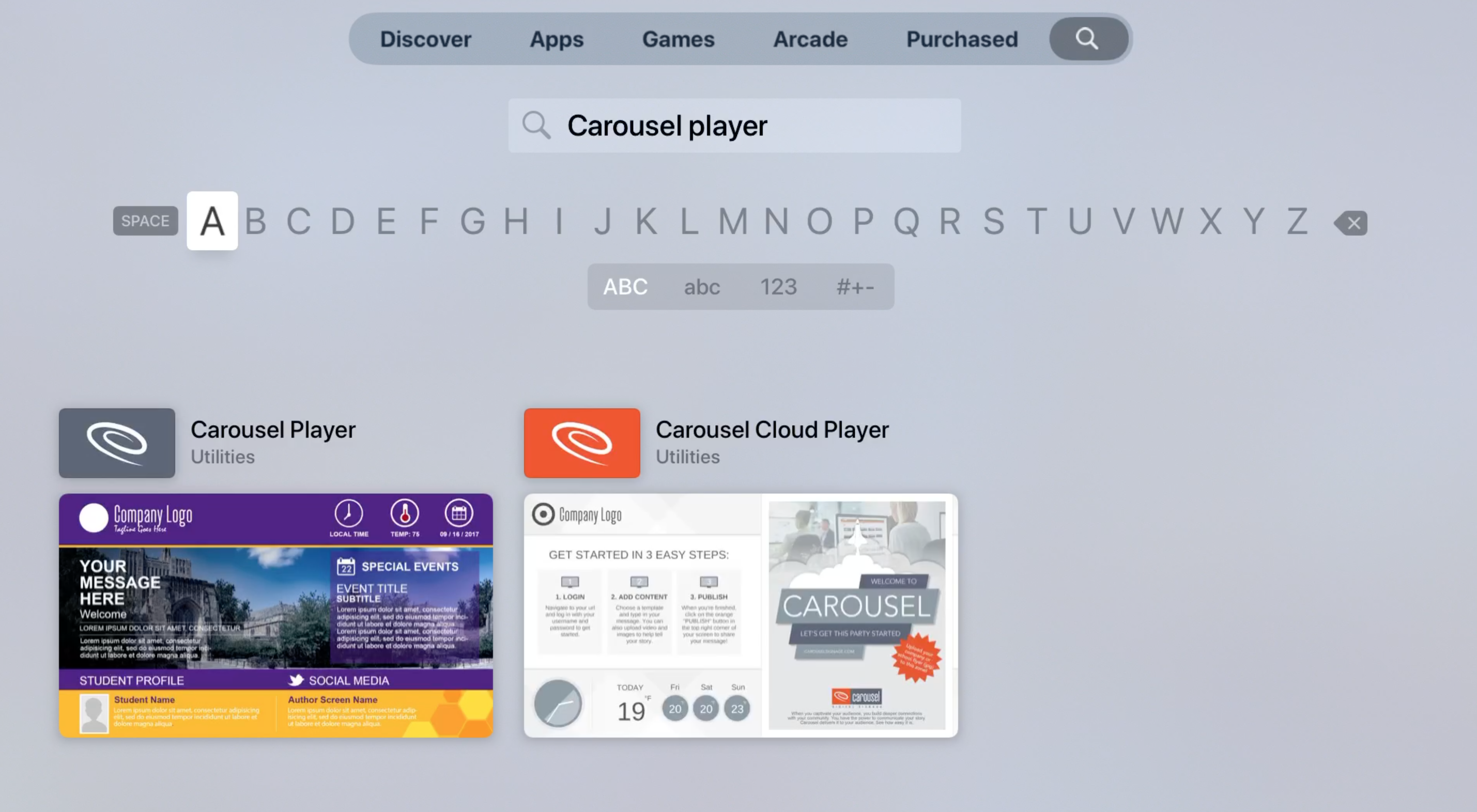 Once installed you will need to configure the App in order to point it at your Carousel Server. Configuration is covered in the next section.
Configuration
The Carousel Player app has a configuration section in the Apple TVs Settings app. To view and edit settings, launch the Settings app and navigate to Apps, then Carousel Player. The configuration options are described in the list below.
URL - The address of your Carousel Server. For example if you log into Carousel at http://example.com/FrontDoor/Login.aspx your server address would be http://example.com
Reset Cache - When set to On the Carousel Player will clear it's content cache and download all content from the server when next run. This can be useful for troubleshooting.
Version - Displays the version info. This information should be provided to Tightrope Media Systems when opening support requests.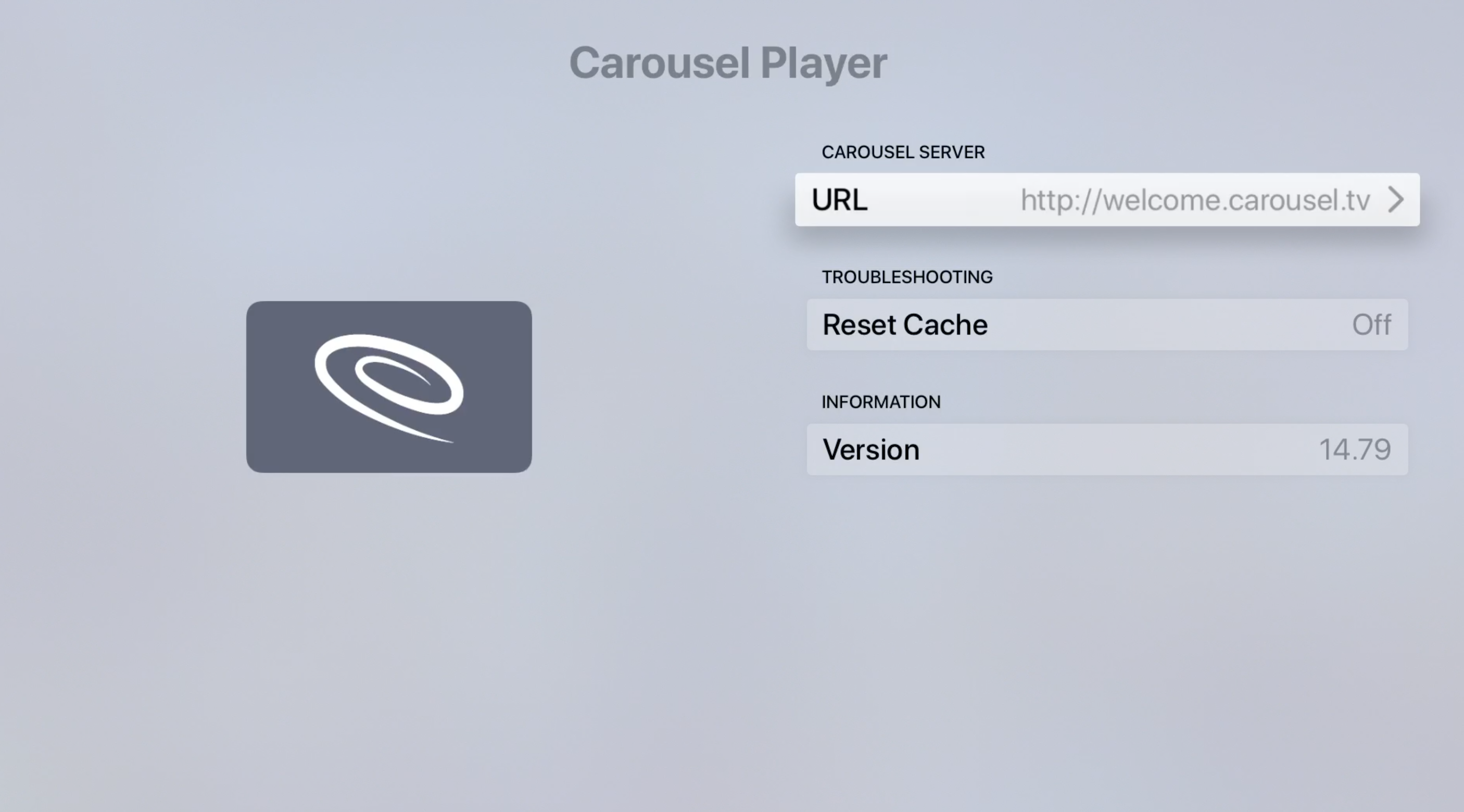 Limitations
Due to platform restrictions not all Carousel features are available on the Apple TV. Below is a list of unsupported features.
Interactive Bulletins - Interactive bulletins are websites that can be hosted on any Web server or uploaded to the Carousel server. Interactive bulletins will be skipped and not displayed.
Video Walls - Carousel Player for Apple TV does not support video walls.
Portrait Channels - Only landscape channels are supported.
Monitor Control - Apple TV is not capable of controlling a monitor.
Bulletin Transitions - AppleTV's bulletin transition support is limited to crossfade
Digital Clocks - formatting and wrapping of clock text can vary on Apple players, a general guideline is that the lines may wrap differently if not using "Size to Fit" and, although we try to translate the custom format strings for digital clocks, fancy stuff, especially if using quotes to put static text on a clock will look different on Apple players, references: CSL-3086 -

ATV: digital clock sometimes wraps text on two lines, and is inconsistent with the UI preview

DONE

and CSL-3147 -

Apple TV - Formatting Clock Bulletins, quotes not respected

DONE
Troubleshooting
Make sure you are using a supported version of the Carousel server
Make sure the URL is entered correctly in the app configuration in Jamf or in the settings app
Watch for any error messages when launching the Carousel Player app
Double tap the multifunction button on the remote and swipe up to exit the Carousel Cloud Player app
Make sure you are using the most recent version of the Carousel Player app
Reset the cache from the settings app
Delete and re-install the Carousel Player app (if downloaded from the App Store)
Video Specifications
For information on video specifications required for video bulletins, video blocks, and live video bulletins please see:
https://c7-support.carouselsignage.com/hc/en-us/articles/360051305852-Carousel-for-Apple-TV-Media-Constraints-Carousel-7
Enterprise Deployment
Using DEP (Device Enrollment Program) and MDM (Mobile Device Management) with a MDM provider such as Jamf (https://www.jamf.com/), transforms an Apple TV with Carousel Player into a first class Digital Signage Device, with an unequaled zero-touch deployment.
Carousel Player running on a managed tvOS device will read two settings from MDM configuration to make large scale deployment easier.
Server - The Server Address of the Carousel Server. This will override the URL field discussed earlier in the Configuration section of this document. Use this managed config option to easily point all managed players at the correct Carousel server. This value will override the value from the Settings app after launching the Carousel Player app and you should no longer edit it in there.
UDID - A unique device identifier. Use $UDID specifically when using jamf as a MDM provider. The UDID allows the Carousel Server to associate channel configuration information for the player after a factory reset of the player.
If the UDID is not the same after a factory reset of the Apple TV the Carousel Player application will not maintain its channel settings and will consume a new channel license.
‍
Other Resources