To complete the configuration you will need a Windows computer with the ability to write to an SD card
‍
Start by navigating to the Carousel web user interface and browsing to the Player Configuration menu.
Select Player Setup and if no server location exists, create one using your preferred server location name and the IP address or hostname of the server: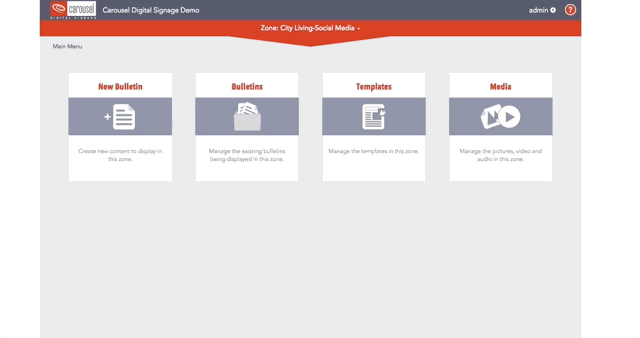 *protocol only required in v7.3+
‍
‍
Now you can create an autorun.brs script to save onto an SD card. The file will only work if it is named autorun.brs so do not modify the name. Please also ensure that the card has been formatted to FAT32 and does not contain any other files.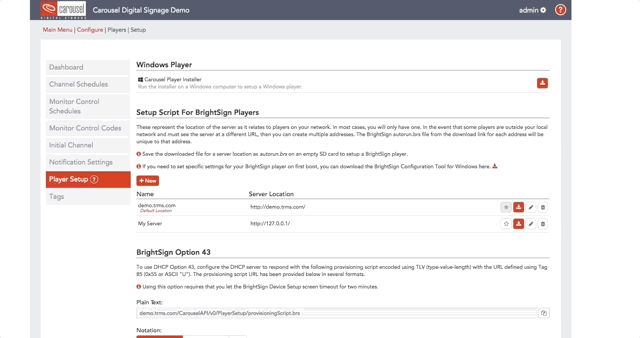 ‍
Now, all you need to do is insert the SD card into a network connected Brightsign media player and Power it on. The BrightSign player will boot-up, download the latest firmware from the Carousel server, reboot, install the latest firmware and reboot again before loading the channel for the first time.
THIS PROCESS CAN TAKE UP TO 15 MINUTES DEPENDING ON YOUR NETWORK SPEED
Once connected, BrightSign players will automatically pull software updates from the Carousel server as it is updated.
Important Note about Brightsign Players
Carousel 7 for Brightsign does not currently support wireless networks that require security certificates or WPA-Enterprise and 802.1x (PEAP/EAP-TLS protocols)